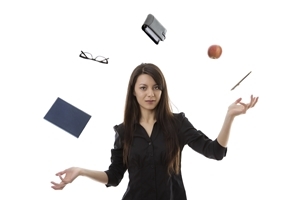 25 Aug 2015

The Do's and Don'ts of Juggling Priorities
Here Are The Do's and Don'ts when Juggling Priorities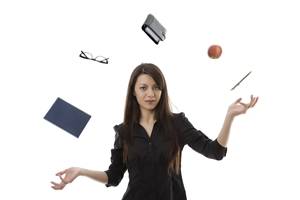 Well I don't mean literally of course, although perhaps it could help improve your mental sharpness…. but I am really referring to how we all have to learn to juggle priorities at work. Or at home of course… without dropping the ball so to speak.
My question to you is; how do you ensure you are not dropping the ball on important tasks you need to do when you are super-busy and feel like you have no time to scratch yourself as they say.
A little while ago, I had a participant at one of my Productivity Training Workshops express some frustration along these lines. He was super busy and his reliability was starting to slip as things became more and more hectic. He found himself forgetting little things at first and then one or two bigger things were forgotten also. At the time, I was feeling a little the same. I was having a crazy few weeks and the conversation forced me to reflect on my own productivity system to see how it was bearing up under pressure.
I came to the conclusion that even though there are times when your priorities seem to build up; the important thing is you don't miss anything important or critical.
Juggling Priorities
I liken it to juggling. When you have a lot of balls up in the air, you want to be confident that you can keep them up there and catch the ones you need to as they come around. Even if sometimes this means you have to throw them back around again.
Meaning of course, you need to be confident that you can grab them when they come around next time and they don't just disappear into the never never!
What priorities are you juggling?
The multiple tasks you are juggling will be a combination of things such as:
Emails in your Inbox
Tasks on your To Do List
Notes in your diary or notebook
Tasks you are trying to remember
Sticky Note  reminders or scrap paper notes
Text messages
And probably many others things besides…
If you drop a few balls (priorities), you take quite a risk. Some may bounce away from you harmlessly, but on the other hand, a few may come back to bite you on the proverbial!!
So how do you ensure you don't miss anything when juggling your priorities? How do you keep them up going around and catch the ones you need to as they come around?
The Do's and Don'ts of juggling priorities
Do write everything down
This is absolutely critical for obvious reasons. Carry a notebook with you always when you are on the job. Write things down as you think of them or are asked to do something. You can use your phone or Tablet of course if you prefer. Personally, I prefer to create electronic Tasks in Outlook and will only use my Paper Notebook when I don't have time to create a task for myself.
Don't rely on your memory
This is probably the worst thing you can do.  Even those of us with great memories will forget things occasionally. And the busier you are, the easier it is to forget. Of course, sometimes you WILL remember these things, but at the most inappropriate time…. Like 3.00am in the morning for instance! See the Zeigarnik Effect
Do Flag important emails or turn them into Tasks or Calendar Appointments
When you Flag an email, be sure to put a realistic date on it. Don't just flag it for today or it will just be overdue tomorrow and turn red in your Task List. You can left click and drag emails onto your Task or Calendar Navigation buttons and then give them a realistic due date. If the date comes back around and you are still not in a position to do the task, just reset the date and it will come around again. (that's the juggle part….)
Don't store emails in your Inbox
Another "don't" is to leave emails in your Inbox and then plan to come back to them later. You may even mark an email as Unread, hence it is bolded in your Inbox, but still, this now means you have to scan your Inbox periodically to ensure nothing gets missed. This might be an OK strategy if you only have a few emails in your Inbox, but it won't work so well if you have hundreds or maybe thousands of emails!
Do keep all your To Do's in one place
Ideally, you should aim to have one To Do List. This ensures nothing gets missed. If you can see everything in one list, it makes it far easier to determine your priorites.  When you have multiple lists, things can easily go missing.
This is where an electronic To Do List such as in Outlook or even Lotus Notes offer you an unique advantage in juggling priorities.  Even so, if you are more comfortable with a paper to do list, then go with that for now. It does mean of course that you need to keep re-writing the list from time to time, but that is better than things being missed.
Anyway, hopefully this provides a little food for thought for you as you reflect on your own productivity system. Ask yourself if your productivity system copes when you are under pressure? If not, then maybe you need to reflect on where the gaps in your system are and determine how you might improve it in the future.
Developing a productivity system to capture all your tasks is one of the main outcomes for my personal productivity training. So if you feel you could improve in this area, why not check out this training for you or your organisation.  Visit our Personal Productivity Training web page.
Geoff Prior – Lingford Consulting, August 2015
Workload & Email Management Training/Coaching. MBTI Consultant