Master your Inbox with our Productivity with Outlook Online training
Microsoft Outlook is an incredibly underutilized program. Everyone knows how send/recieve emails etc, however, Microsoft Outlook can do much more than that. There are so many simple tools and tips that can help people manage their emails and workloads more effectively! Our Productivity with Outlook Online training is based on our popular Half-Day Productivity with Outlook training but structured to better suit online delivery.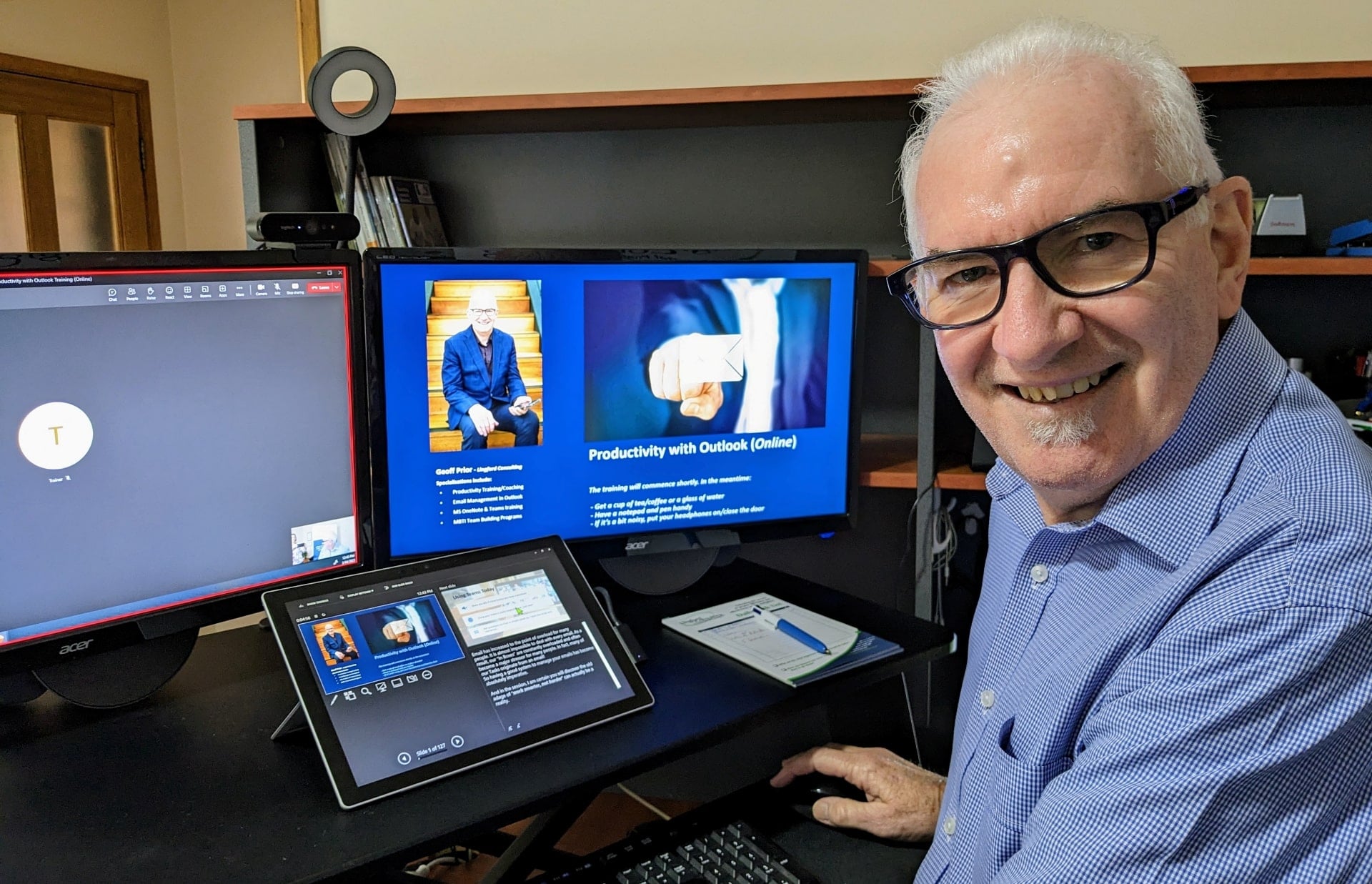 See our Productivity with Outlook training in Melbourne
See our Productivity with Outlook training in Albury Wodonga
See our Productivity with Outlook training in Perth
Program Overview
Two,  2-hour online sessions that can be undertaken with a short gap between them to faciliate better learning outcomes. 
Session 1 – Manage your Inbox using the 4Ds (2Hrs)
In this power-packed 2-hour session, I will show you how to totally change the way you manage your Outlook Inbox, your Email Folders and Email Search!
Dealing with Email overload
Emails & Continuous Partial Attention
Turn off your Email Alert – Stay Focused
Emails and Multi-Tasking
When to check emails (Are you over checking?)
Start your day in your Calendar
Create your Outlook Dashboard
Understand your Outlook Ribbon options
Tidy up & customise your Inbox Columns
Create your Outlook Inbox Dashboard View (Unique)
Working Smarter with Folders/Search
Learn to use the powerful Outlook Search feature to find emails faster! 
Tracking important conversations in Outlook
Use your Email Folders more effectively
Managing Email using the 4Ds
Smart ways to handle an email once
Monitoring your Email Radar
Focusing your Inbox using Email Rules
Learn smart ways to track/follow up important emails quickly!)
Using Email Search Folders
Session 2 – Manage your Workload using Outlook Tasks (1.5 Hrs)
In the second power-packed session I will demonstrate how Outlook can be used to manage your entire workload, not just your email…and in a busy and fast-paced digital environment. You will quickly learn the benefits of using Outlook Tasks as your primary to-do list, in conjunction with Microsoft To Do. I will demonstrate how you can customise and create your ultimate To Do List and throw away your paper to do list forever as a result!
Using Outlook Tasks
Various ways to create a Task
Recurring Tasks
Assigning Outlook Tasks to others
Managing your Task list simply and quickly
Explore the various Task views you can use
Introducing MS To Do (Tasks on Phone)
Using the To Do Bar
Customise your To Do Bar
Using the To Do Bar
Tasks & your Calendar
Ditching your paper To Do List
Outlook Calendar as Planner
Start Day in your Calendar
Open in new Window
Calendar Colours with Categories
Meetings & Tracking options
Session 3 (Optional) 1 Hr
In order to consolidate the learning from this program, we recommend a 1 Hour (Online) session about 2-3 weeks after session 2 is completed. The purpose of this optional session is to answer any additional questions and assist attendees in fine-tuning their approach to managing their emails in Outlook.
I will also introduce a few more advanced concepts to help people save time writing and managing emails:
Email Templates
Quick Steps,
Quick parts,
Conditional Formatting, etc
Why this program?
Our Productivity with Outlook Training online will help you or your team develop specific strategies for dealing with emails more effectively and getting your Inbox under control. For good! 
I will show you some smart ways to customise your views in Outlook and develop strategies aimed at achieving immediate results! You will discover many practical ways to improve your email productivity by managing your Inbox more effectively.
Our Outlook productivity training (Online) includes:
a comprehensive training manual
one month of personalised follow-up via email
access to a trainer for one month
measurement of participants' skill levels before and after the training using our online Productivity Skills Questionnaire.
Flexible Delivery Options
We can tailor our Online Productivity with Outlook training to suit your organisation or team's individual needs. You can choose to do Session 1 only and/or Session 2 or do all 3 sessions of course. 
All sessions have been designed to flow on from each other, but they can be customised it to suit your requirements.  We can run this Online training training via Microsoft Teams or Zoom or any other Platform you choose
View our "On-Demand" Outlook Training
Client Feedback
Hi Geoff. Firstly thank you for the training! It has changed my outlook life! Since the training I have been using outlook how you suggested (changing the visuals, using to do lists, using the 4D's approach). I have noticed I am definitely more organised and able to remember to follow up things more easily. My inbox is no longer overwhelming and checking it is not a daunting task. I have also noticed I am spending less time in my inbox and more time doing work which has improved my productivity. Karmen – Planning Enforcement, Local Government Melbourne.