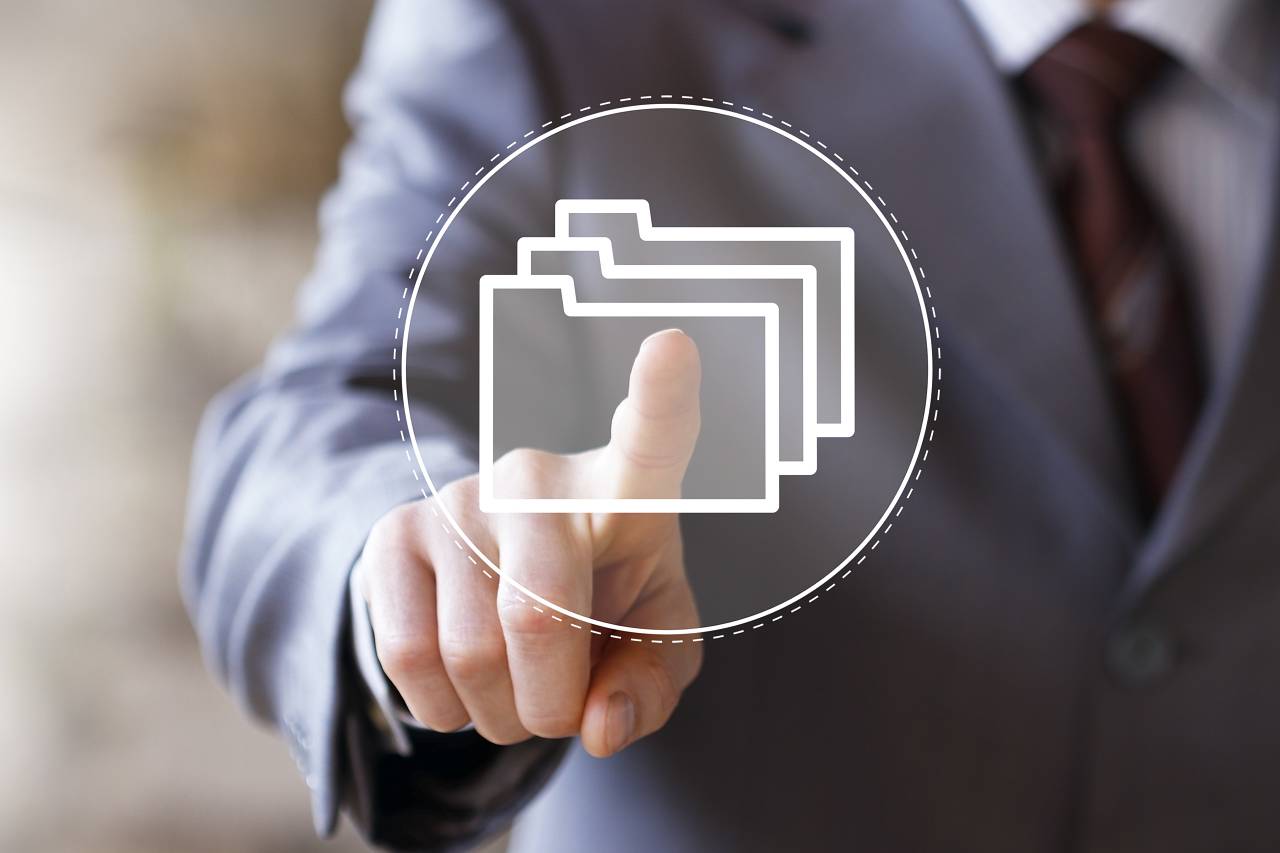 27 May 2022

My Outlook email folders have disappeared…help!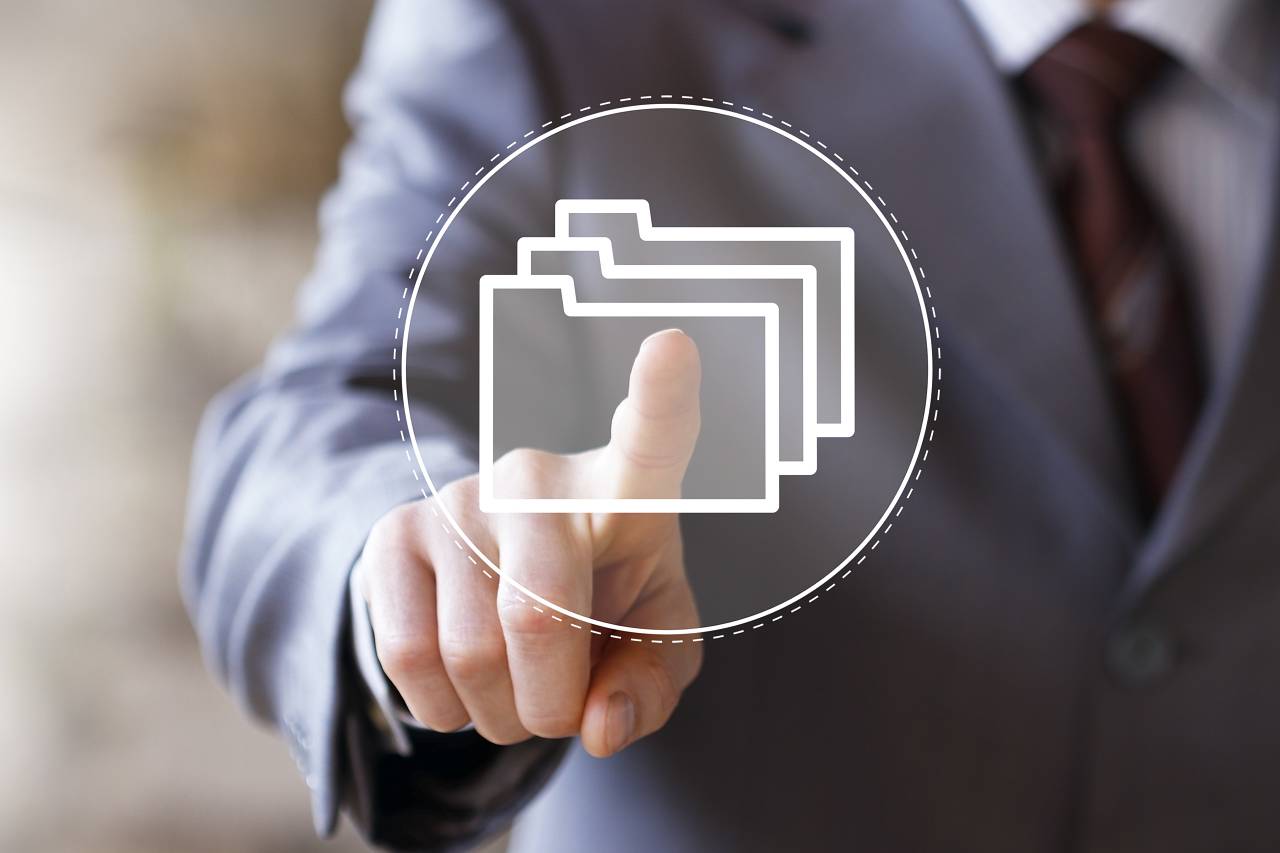 How to show your Email Folders if they have disappeared from view
Occasionally when I been delivering training, I've had someone tell me that they have lost their email folders. Usually they look exasperated and say something like, 'They are just not there anymore…or; "how can I show my email folders"? Help!' When I am training in-person, this is a relatively easy fix. I walk behind them to see their Outlook screen and show them that the folders aren't gone – they're just hidden from view. Then I show them how to display the folders again.
However, when training online, it is not quite so simple to explain how to fix this problem. I hope this short little article will be helpful to you if you've found yourself in this situation.
Most people know where their email folders are normally located. On the left of your Inbox they show up as shown below (or in a similar position if you have a different version of Outlook).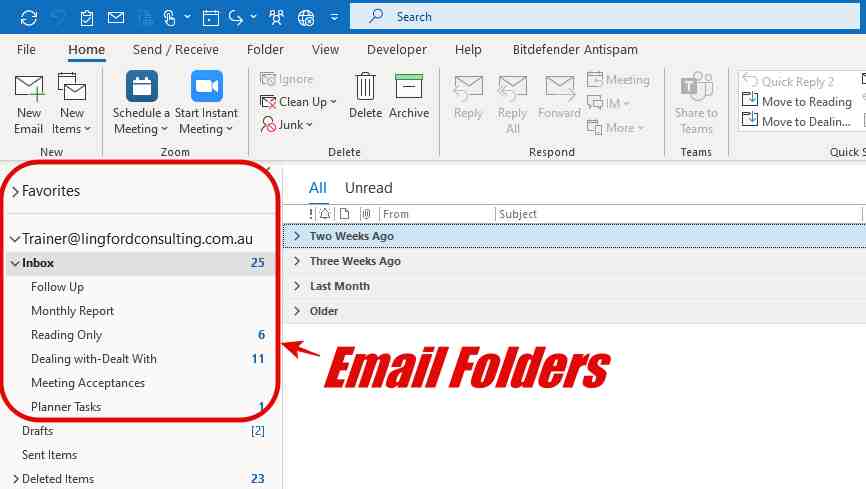 But what happens when you are confronted with this?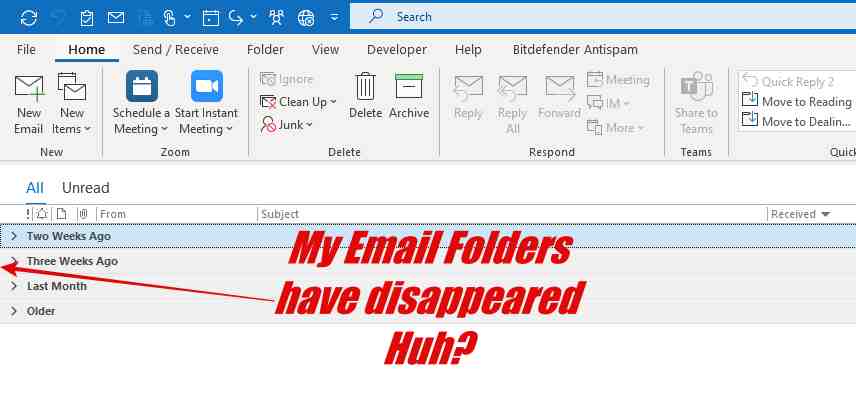 This can be scary because most of us have that email folders panel showing all the time. We've never needed to unhide it. Luckily there's a very simple, if not completely obvious, answer. To show your email folders again, head across to your View menu, then click on Folder Pane and select Normal. (See below.)

Once you do that, your email folder list will reappear as seen below.
There is one other thing that can happen to make your email folders seem to disappear. In this case, the folders list hasn't actually disappeared but has instead been collapsed into the 'minimized' view on the side, as you can see below.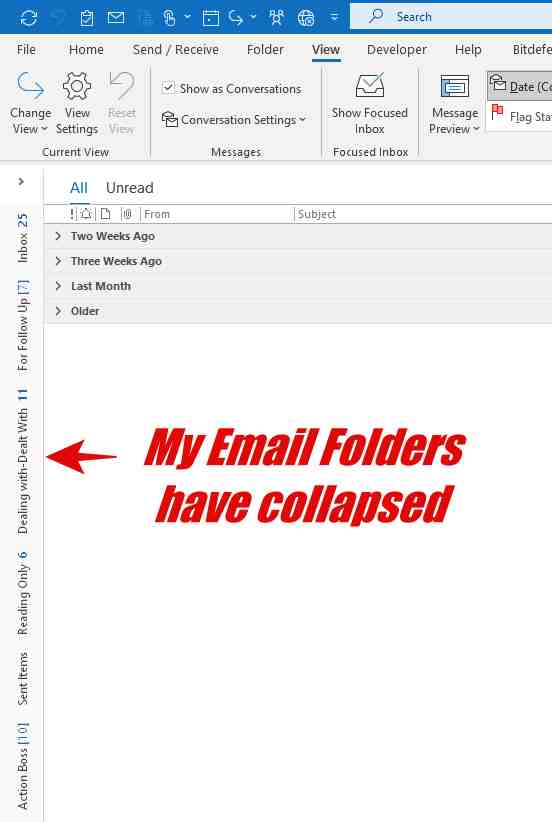 At the top of the 'normal' folders list, there is a little arrow (shown below) that can be used to collapse or expand to show your email folders. You might choose to use this little feature when you are using a small laptop screen, for instance, dedicating more of your screen to the view of your emails. You might also enable this view by accidentally clicking on that small arrow, which can really be confusing if you don't know what you've done.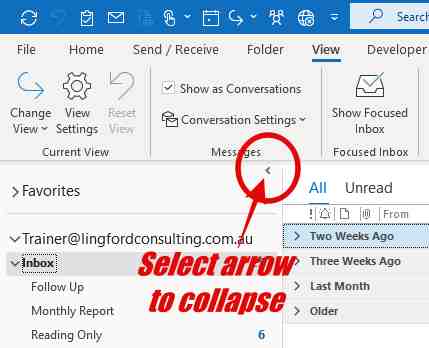 To expand and show your email folders again, click the small arrow at the top of the collapsed list (the arrow that points right). Once you've done that, you can 'lock' the normal view in permanently by selecting the pin icon as shown below. (The pin icon will appear after you've expanded the list from the minimised/collapsed view.)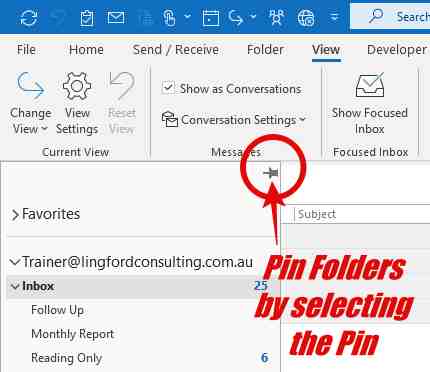 I hope that is helpful. Once you know how to quickly switch between these two views, it is simple. Now you'll never be left wondering where your email folders have disappeared to!
If this post has proved helpful for you, please let me know by adding a comment below…thank you!
PS – Also check out this related article; "I deleted one of my Email Folders. Where has it gone?"  I wrote this in response to some comments/feedback from the article you have just read.
And finally, if you have too many Email Folders that are just not working for you any more. Or if are wasting time looking for emails you know you have received, then our Online/On-Demand "Using Email Search and Managing Email Folders" course is worth a look.  In this short On-Demand Training Course, I will show you how to reduce your reliance on Email Folders and learn to use the hidden features of Outlooks incredible Search function. It will change your Outlook world forever!
Geoff Prior – Lingford Consulting, May 2022
Workload & Email Management Trainer & Coach and MBTI Facilitator