13 Apr 2021

How to link your OneNote notes to a meeting in Outlook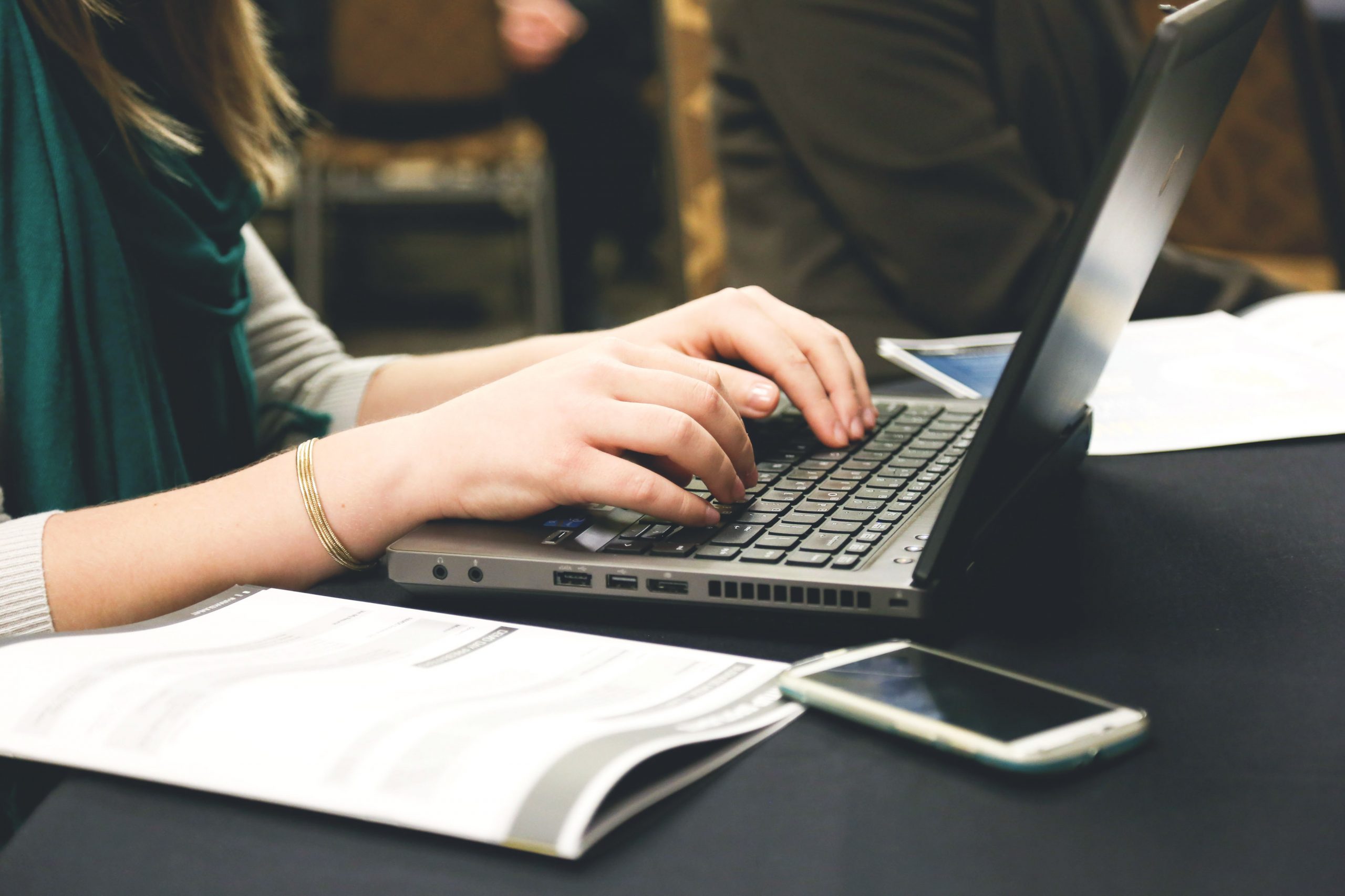 In the past year, as many of us have been working from home, I've noticed more and more interest from people wanting to learn how to move to digital notetaking using Microsoft OneNote. OneNote is a great tool for taking notes in meetings, including online meetings. Keeping your notes 'paperless' has several advantages including removing the need to retype them later, making it easier to keep track of them and, perhaps most of all, making it harder to lose them!
In part, I think the roll out of Microsoft 365 across organisations, in response to the need to work remotely, is responsible for this increased interest in OneNote. I also think that the need to go more digital could be partly due to the fact that employees have lost access to their large office laser printers. Additionally, there is a lot more work being completed online, with many having a heavy reliance on their laptop as a real tool of trade.
One of the things that makes Microsoft OneNote even more powerful – it's one of my favourite features of the application – is its seamless integration with Microsoft Outlook. This integration was a clincher for me seven years ago when I decided to really embrace OneNote. I summarised some aspects of this integration in a previous article here.
If you're a regular reader of this blog, you'll know I love using Microsoft Outlook in its own right. It's an incredibly powerful productivity tool that many have found even more significant over the last year. As we've lost the ability to quickly pop in to someone's office for a quick chat, those conversations have become email threads which has led to an overall increase in the amount of email most of us are dealing with. In addition, more online work has tended to mean more meetings, so I know I'm not alone in relying on Outlook's calendar to keep track of my days.
Of course, more email and more meetings can lead to more confusion as it's easy to lose track of conversations, or to overlook a commitment you've made (or someone else has made). That's where using Microsoft Outlook and OneNote together can be particularly useful. It's much easier to stay organised if you link your meeting notes in OneNote with your meetings and associated emails in Outlook.
Link your meeting notes in OneNote with a meeting in your Outlook calendar
There are two ways to link meeting notes in OneNote with a meeting in the Outlook calendar. One is to create a link from your meeting event in Outlook – I've previously described how this can be done in this blog post.
The other approach is to insert the meeting details into a page in OneNote from the OneNote side. Both achieve the same result, so for this article I will focus on this method.
Create the Link from inside OneNote
First, open a page in OneNote (either an existing page or a new one). In Microsoft OneNote, from your Home Menu, select the 'Meeting Details' drop down option to reveal the meetings you have for today. Select a meeting and the information from that meeting will be inserted into your Page. If the meeting you wish to insert is from another day, select that option as shown below.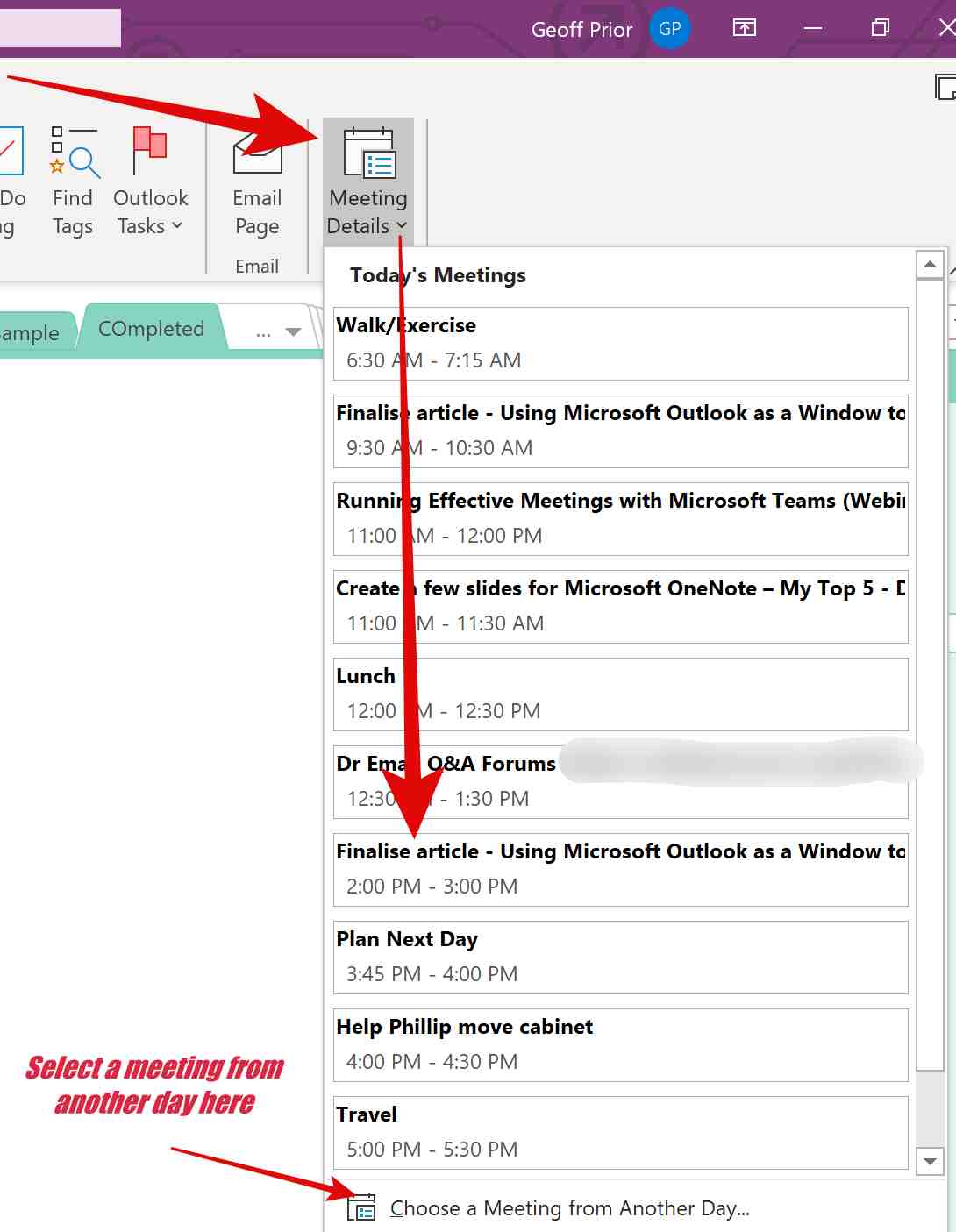 Notice that after you do this, you will have all the meeting details inserted into your page. The title of the meeting is inserted to become the name of the page and the meeting's date and time are also inserted.
From OneNote for Windows 10 (recall there are two different Windows versions – (see my article on this here) you can do the same thing, though you need to navigate to your "Insert Menu" to locate your Meeting Details in the Ribbon.
From here, there are several things you can do:
Link to Outlook Item

– opens up the meeting in Outlook

Invitation Message

– click to expand/close the message

Participants

– click to expand/close the list of participants
Navigate to your Meeting Notes from Outlook
Now that your meeting notes and your Outlook meeting are linked, you can navigate to those meeting notes from Outlook. From inside a meeting in Outlook calendar, you can access your meeting notes in OneNote by selecting the OneNote icon in the Outlook meeting as shown in the screenshot below. If you have created a shared Notebook in OneNote or are in the same organisation, you can select to 'Share notes with the meeting'. I'll expand on this another time.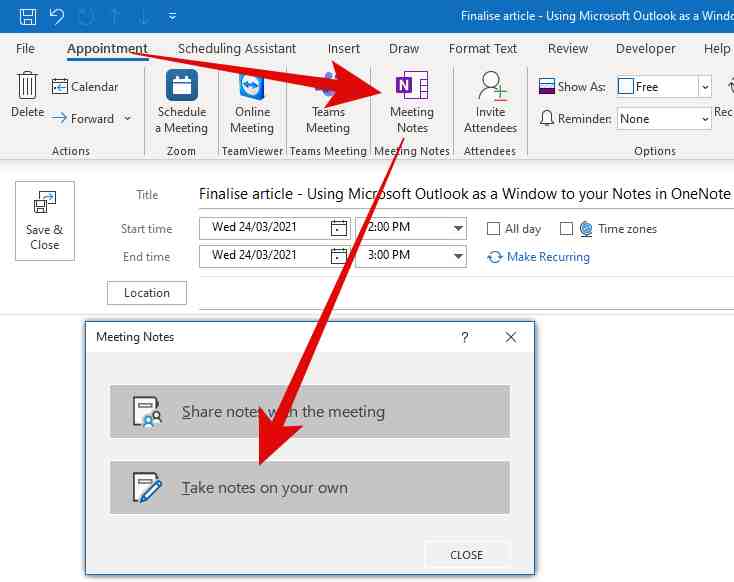 This will open the Page in OneNote you have already Linked…meaning you never have to worry about where your meeting notes are located!
Using OneNote on the Web
You can do the same thing using the Web Version of OneNote if this is your preference. It is basically the same process, except that the "Meeting Icon" is to be found in the "Insert Menu" on the Web Version of OneNote rather than the Home Screen in the Desktop version. (See pic below) So;
Insert > Meeting Details > (You may get asked to log into your account again…I did) The Add Meeting Details side pane will open on the far RHS > then select your meeting as shown below.

Summary
I hope you can see the value the integration of Microsoft Outlook and Microsoft OneNote has for users of both programs. It means you can use your meetings in your Outlook Calendar to quickly locate your meeting notes.
If you are a Microsoft 365 user and you are yet to discover OneNote, it would definitely be worth your while exploring how you could use this fantastic program to take meeting notes and manage your workload more effectively. I've written a number of posts about OneNote previously, and I also offer customised in-house training in the use of OneNote.
Geoff Prior – Lingford Consulting, April 2021
Workload & Email Management Training/Coaching. MBTI Consultant
View our (Online) OneNote Training Program