31 Mar 2020

Outlook Navigation Bar – Icons to Words

Your Outlook Navigation Bar sits at the bottom of your screen. It allows you to easily switch between Mail, Calendar, Tasks etc. By default, the Outlook Navigation Bar contains small Icons so as to maximise your screen viewing. (See below)

Many people, myself included, find that the Outlook Navigation Icons are a little small and hard to recognise at first glance. So I've recommended for many years to change them to Words as below.
It's really easy to do, simply left click on the 3 dots … as shown below.

You will then see the Navigation Options Dialog Box below.  Simply uncheck the "Compact Navigation" box. Note, you can also choose how many navigation buttons you wish to display and the order in which they are displayed. Once your done, click OK.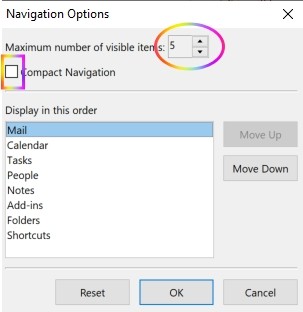 I hope you found the instructions easy enough to follow. If you have any issues, feel free to get in touch.
Geoff Prior – Lingford Consulting, March 2020
Workload & Email Management Training/Coaching. MBTI Consultant
View our "On-Demand" Outlook Training