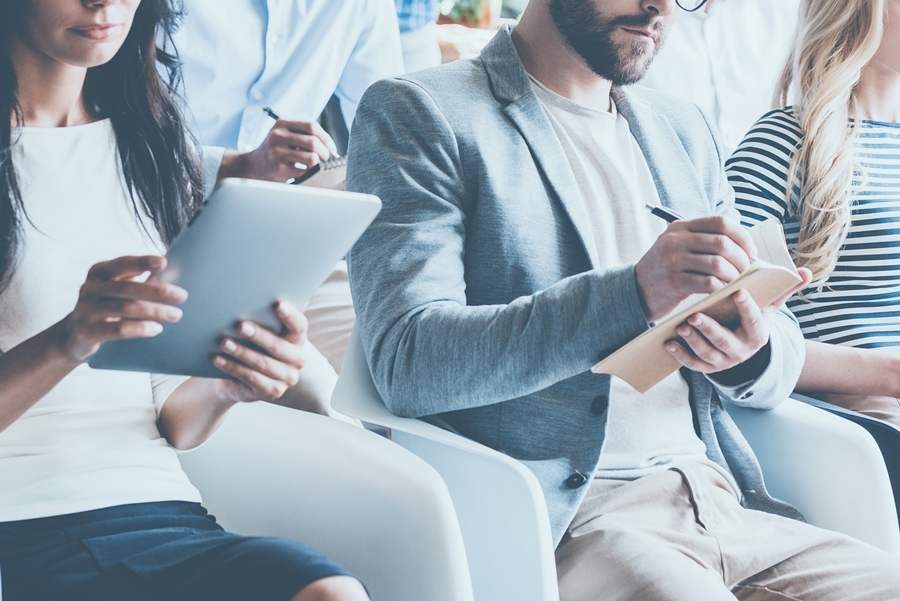 03 Nov 2020

I chose Microsoft OneNote 2016 over OneNote Windows 10. Here's why…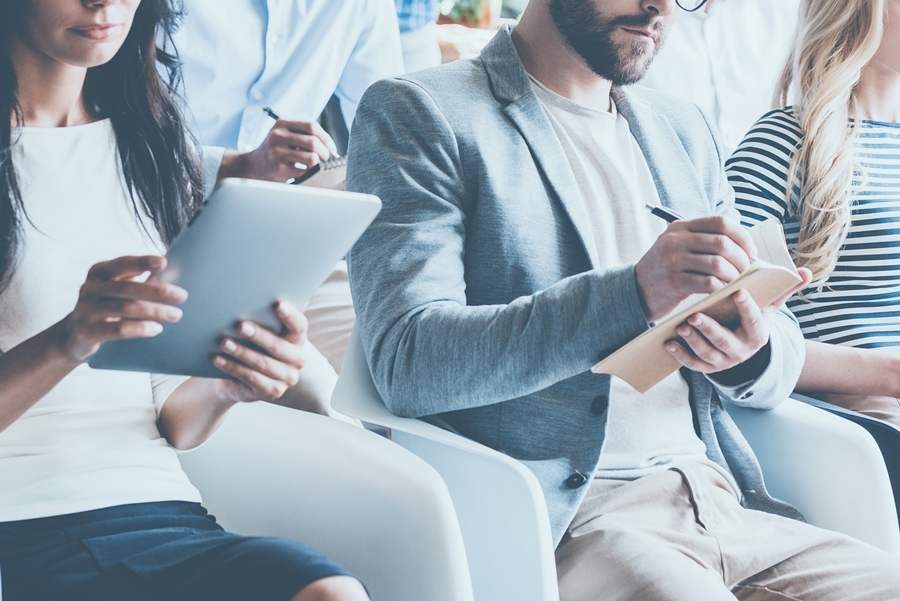 In May this year, I wrote an article titled 'Which Version of Microsoft OneNote should I use?' It captured a bit of attention and a few comments. One comment was a question from a reader (thanks Vince) who asked: 'Geoff, what are the advantages of using OneNote for Windows 10 [over the Microsoft OneNote 2016 version]?' This is a great question and so I thought I'd answer it here so you can all read it.
By the way, one of the dangers of writing an article like this is that it can quickly become out of date after Microsoft make changes to their software. I will attempt to update this article in line with any significant future changes. Microsoft OneNote 2016, which is now simply called  Microsoft OneNote, is still my preferred version. However, as Vince rightly pointed out, I did not really go into much detail in that previous post about why I prefer Microsoft OneNote 2016 over the Windows 10 version.
Right upfront, it is worth noting that both versions sync together so it is perfectly viable to switch between both versions. In fact, I occasionally have both versions open on the one computer. I continue to use OneNote for Windows 10 on one of my Windows laptops, mainly so I can continue to monitor the changes made in that version.
I figured it might be easier to highlight some of the key things I like about each of the two versions separately. I won't be able to cover all the differences – that would probably take a book! But I will highlight those I consider important.
What I like about Microsoft OneNote 2016
Microsoft OneNote is the Microsoft Office version of OneNote. Every version of Office from 2003 onwards, up to and including Office 2016, included a version of OneNote. After 2016, Microsoft changed tack and introduced the new 'look and feel' of what is now OneNote for Windows 10 and Microsoft 365. Because of its continuing popularity, the 2016 version of OneNote is still included in new Windows installations, or can be obtained as a standalone download.  You can read more about that in a previous post I wrote here.
Familiarity and customisability
Microsoft OneNote 2016 has the familiar Office 'ribbon' at the top. That's one of the main reasons I prefer it: it's simply more familiar as I switch between OneNote and other apps such as Word or Excel. Having that consistency of office layout and  functionality is important for productivity. This is further improved by the ability to customise the Quick Access Toolbar – something else it has in common with the other apps.
In this version, your Notebooks are stored locally on your device AND in the cloud if you wish to, whereas there is NO local storage option available with OneNote for Windows 10. For some people, this is a consideration for security and/or backup reasons.
You also have a lot more options you can customise in this version. I quite like that. Go to: File > Options… and check out what you're able to tweak to suit your own needs.
More Microsoft Outlook integrations
Better integration with Microsoft Outlook is, to me, the biggest feature advantage that Microsoft OneNote 2016 has over the Windows 10 version.
Firstly, you can email any page. In the Home ribbon on any page you create, you will see an envelope icon that, when clicked, opens a new email in Outlook with the page attached: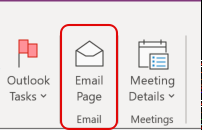 Secondly, you can create a task from any OneNote page and send it directly to your Outlook Tasks. This is a game-changer for me since I use Outlook Tasks extensively. Highlight or place your mouse cursor on any sentence or block of text, or even in the page title, and select Outlook Tasks as shown below. Choose your date etc., and a task will be created in Outlook Tasks with a link back to the page in OneNote. All this happens without leaving OneNote.
You can also insert meeting details from Outlook into a page. I use this feature a lot to link my notes with my Calendar events, though this is feature is also available on the Windows 10 version.
Page templates
Microsoft OneNote 2016 comes with an array of built-in page templates you can use, much like you find in Microsoft Word. And like in Word, you can also create your own templates and save them for future use.
In OneNote for Windows 10, page template functionality has recently been added, though there are no templates provided. You won't find templates in the application menus either. You can create a template by right-clicking on a page and saving it as a default template.
What I like about Microsoft OneNote Windows 10
This version has been designed so that it looks similar to the OneNote versions found on mobile devices (Android and iOS) and on Macs. The idea was to give all versions across all platforms the same look and feel. This meant the Office feel had to go and OneNote for Windows 10 adopted a much simplified ribbon. Unfortunately this has resulted in the removal of many familiar Office options. Take a look at the picture below.

Use your device's camera
You can use the camera on your mobile device to take a picture directly within a page. This is one of the biggest advantages that the Windows 10 version has in my opinion. (It cannot be done on the Microsoft OneNote 2016 version.) It's one of the reasons I do use the Windows 10 version on one of my Microsoft Surface Pros… (yes, I have two!)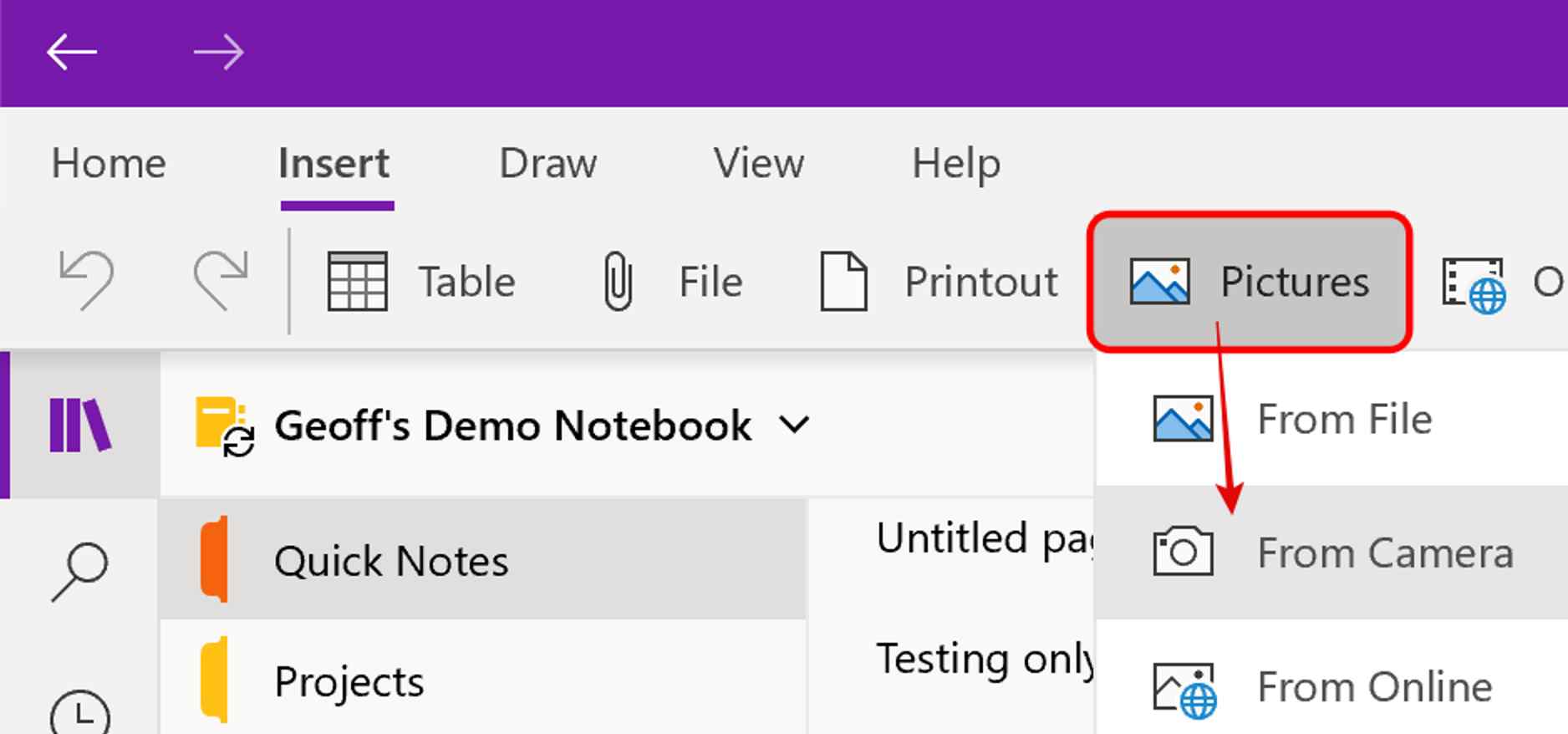 Add new pages at the top or bottom
In OneNote for Windows 10, you have the option of adding a new page to the top of the list, below the selected page or to the bottom of the list. This is a preference setting (not something you choose each time you create a page). You can change your preference by clicking on the 3 dots (ellipsis) at the top right of the menu bar, then selecting Settings > Options.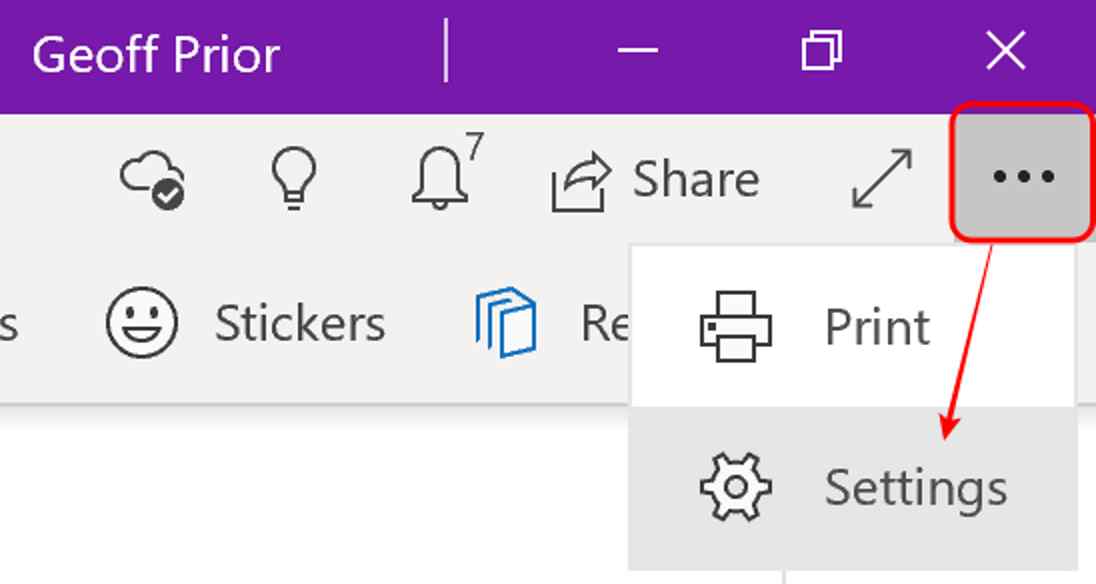 Scroll down to find the 'Create new pages' option and make your choice.
Given I use both versions on different devices, I've chosen the third option (adding a new page to the bottom of the list) to remain consistent with the 2016 version.
Speech to Text (dictate) on a page
In OneNote for Windows 10, you can use dictation to verbally 'write' your notes on a page using a feature called 'speech to text'. I do like this feature. That said, there is a Microsoft add-in for the OneNote 2016 version called 'Learning Tools Add-in' which is free and provides similar functionality. Check it out here
In Summary
This list is not exhaustive. I also like the 'Ink to Shape' and 'Replay' features. The latter replays an equation you may have written out. Apparently the Windows 10 version features a faster sync engine too, though I have not really noticed any significant difference myself.
Overall, I find Microsoft OneNote 2016 a far easier program to use. It is more feature rich and has more integrations with Microsoft Outlook – the killer feature from my perspective. Ultimately, it might depend upon which feaures are more important to you I guess.
Geoff Prior – Lingford Consulting, May 2020
Workload & Email Management Training/Coaching. MBTI Consultant
Learn more about our Microsoft OneNote productivity training.