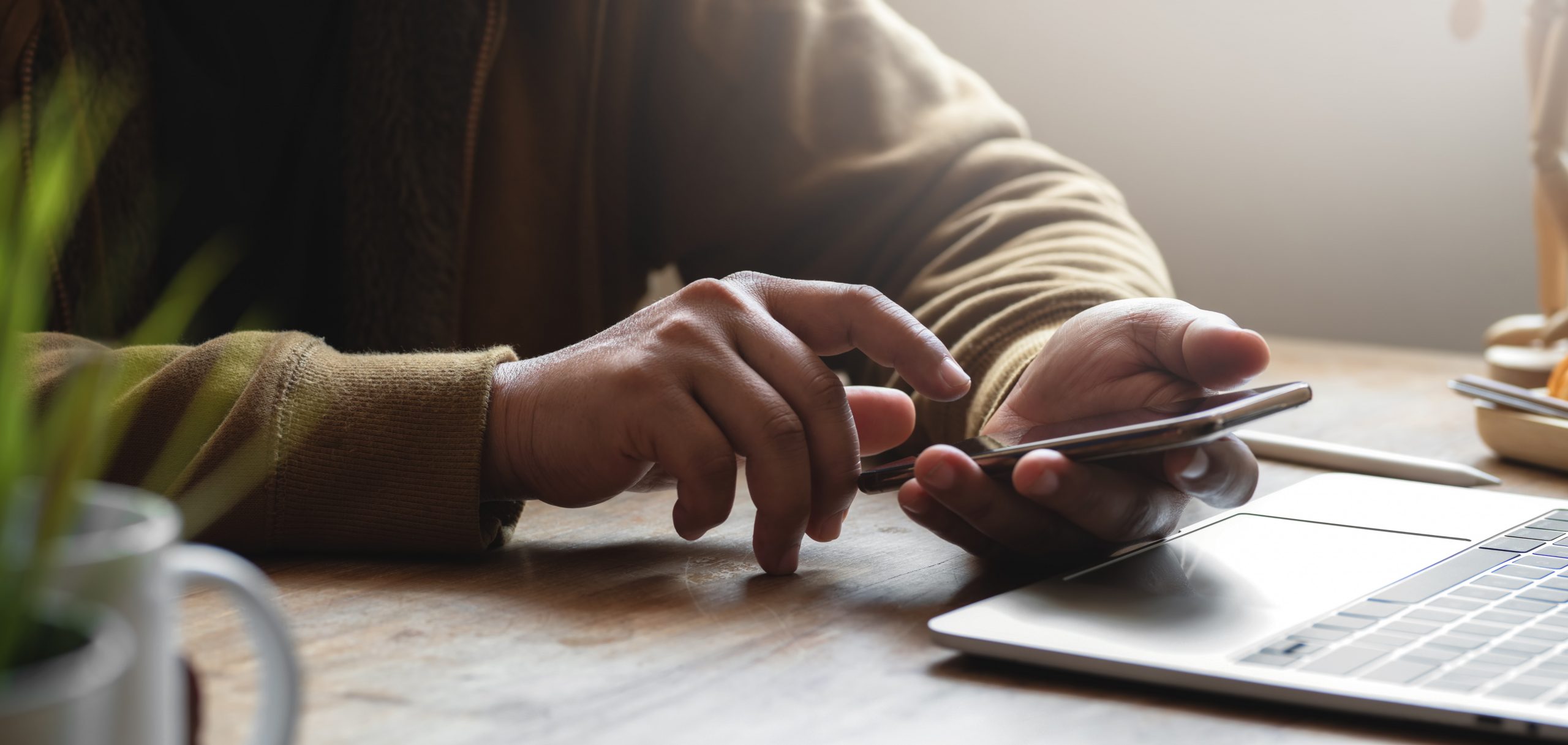 23 Mar 2020

How to be productive working from home – Part 1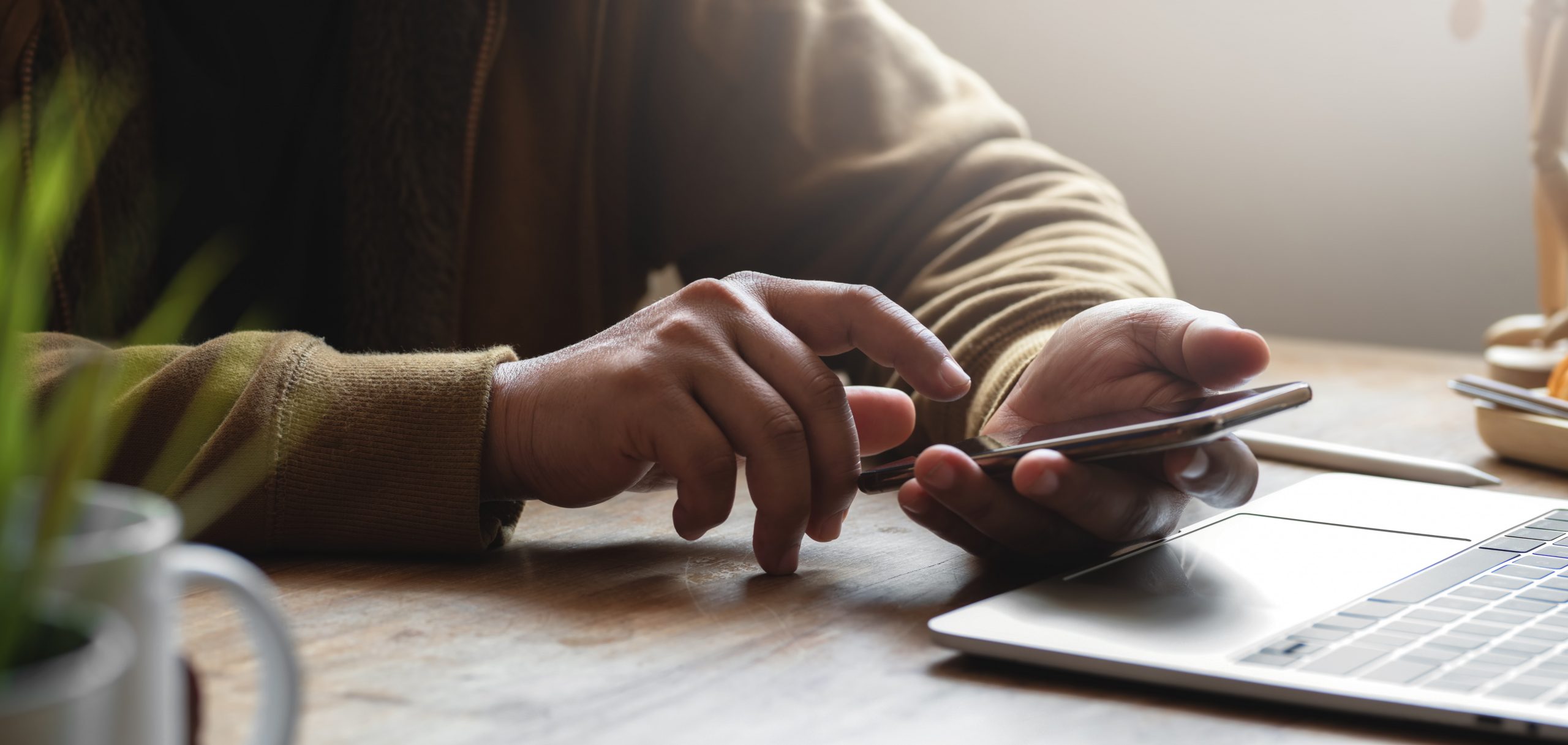 These are certainly interesting and challenging times. As a result of COVID-19, many people are now working from home who don't normally, so it seems opportune to write a post about ways you can be productive when working from home.
Part 1 – the setup
Interestingly, one of the comments I often get in my productivity training is how people feel more productive when working from home. Less interruptions – and less meetings – lead to more focus, and there is no doubt this can be true. Many people struggle to concentrate in an office, especially in an open-plan environment. There are so many distractions and interruptions to contend with.
So working from home five days a week should be a dream, right? Well maybe, but as someone who has worked from my home office for more than 15 years, I can assure you that it does present its own challenges. Here are just some of them:
Challenges in being productive working from home
Find the right space
Working from a laptop (i.e. on one screen when you're used to having two or three)
Having to maintain your own discipline when there's no one to see you slack off!
The temptation to do 'fun stuff' (or domestic chores) around the house.
Children, or in my case grandchildren, running around at times
Isolation and lack of human interaction, and the challenge of collaborating in those circumstances
Lack of involvement in the day to day
Maintaining work/life boundaries
I.T. issues and lack of easy access to support; remote connection issues; file syncing issues
Access to important information
I'm sure the above list is not exhaustive, but it's a good start. (Feel free to add your own in a comment). Over the next few articles, I will address each of these. For the rest of this post we'll look at the first two items on this list.
Find the right space to work
Unless you have a dedicated home office, there can be a few challenges in finding the right place to work at home.
You will want a space that you can go to that seems like work when you go there. In a family situation, ideally you also want somewhere to work where you can isolate yourself from the goings-on about the house, especially if there are kids around. If you are able to shut yourself away behind a door, you can train your kids that the closed door means you're not to be disturbed.
When our young grandkids come over, my wife and I say, 'Pa has to go and do some work now' before I head to my office (which is a converted bedroom). When I'm in there, the grandkids know that I am working and rarely come in. Funny enough, when they do, they tend to say something like, 'Are you still working Pa'? I usually tell them I am and I will be out soon for a break. They respect the space because it's work.
A separate space also has the advantage of allowing you to leave your paperwork in place at the end of the day, and to make a clean break between your work life and your home life. You also need a comfortable, reasonably ergonomic place to work, so a separate office or computer desk and office chair are good options.
If you can't create a separate space, try other strategies for blocking out distractions such as putting headphones over your ears. Again, you could tell the kids that 'headphones on means please don't disturb'.
Be realistic and flexible here as well. If you're going to have kids around outside school hours, you may need to adapt your working hours to suit. The truth is you'll probably get as much done in an undisturbed six hours between 9 and 3.30 as you would in eight hours at the office anyway! We'll discuss this aspect further in my next post.
Try to set up multiple screens
The next challenge you may face in trying to be more productive working from home is trying to work from your Laptop screen. Most of us are now working from at least two screens at work. I tend to use my laptop screen as a third screen. And yes, even though it is smaller than my other two screens, in the last few years I've really found a way to use that third screen effectively. Having a monitor separate from your laptop not only gives you more 'real estate' to work with, but it also promotes better posture as you won't be craning your neck all day staring at the laptop screen below you.
I would recommend trying to set up multiple screens at home if you can. In my own home office I have two separate monitors attached to my laptop as my standard set up. (see below)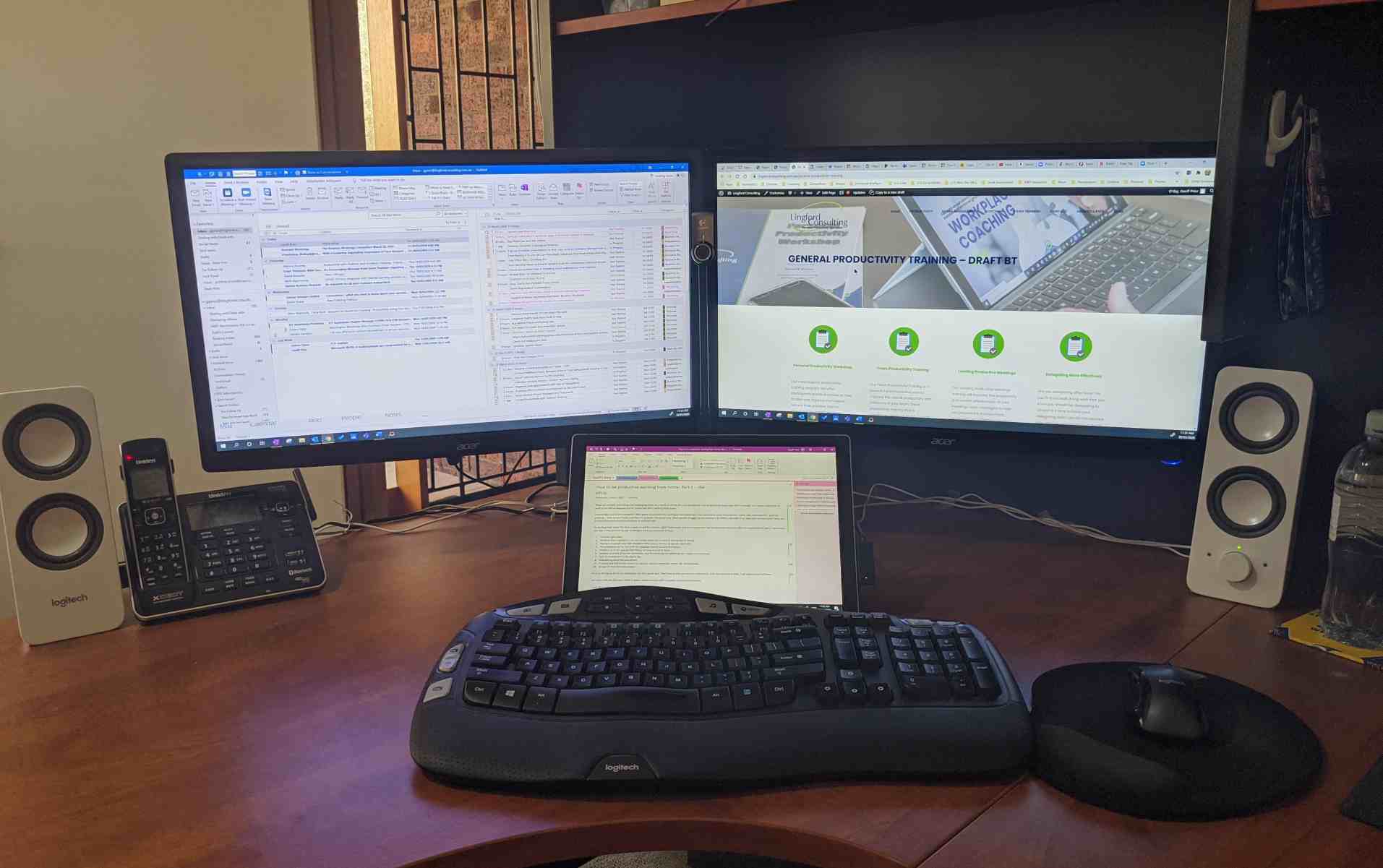 If you don't currently have that functionality available to you at home, perhaps consider investing in a separate monitor (or two), which are available quite inexpensively these days. If that's not an option, there are other ways to achieve a similar result.
Use your TV
When I'm staying in hotels, I often use the TV screen as my main screen, with my laptop as the second screen. It is often not huge, which is an advantage actually. I'm not sure what it would be like to work from a 60-inch monitor! The connection to the television can usually be made using a standard HDMI cable, though depending on your computer you may need a specific connection or an adapter. A trip to Officeworks or ebay should get you going.
Split your screen.
You might consider splitting your Laptop screen when needing to work on multiple documents or even move files around. This is my fall-back position if I cannot use multiple screens. On Windows 10, you can open up a few windows to work on them simultaneously. This is a skill really worth mastering.
Firstly, open up the documents you wish to work on. Point the mouse over the title bar (The purple bar below), then left-click, hold and drag to the left of your screen.
As you do this, you will notice that the Window you are dragging will resize and snap into position when you release the mouse. You will then see all your open windows on the opposite side of the screen. Select the one you wish to open and bingo….you now have a split screen.
Check out this really good video from Brett Gilbertson on YouTube. Brett is talking about how to do this on a Surface Pro, but it will work on any Windows PC.  How to split your screen using the Surface Pro   A similar feature, called Split Screen, exists on Mac. You can find instructions for how to use it here.
Setting up a home office/workspace and getting the environment right is just step one towards being more productive working from home. In future posts I'll address other issues on my earlier list, including how to maintain focus and maintaining remote connections with your colleagues.
I hope you found this article useful. Feel to add your suggestions to the  comments section below.
Geoff Prior – Lingford Consulting, February 2020
Workload & Email Management Training/Coaching. MBTI Consultant