Microsoft OneNote Training to improve your productivity
Are you wasting time handwriting notes and then retyping later?
Do you have a good system for capturing your Innovative Ideas?
Do you sometimes miss important tasks from your handwritten notes?
Do you ever wish you could store all your project information in one place?
If this is you, then we have some good news. Our Microsoft OneNote Productivity Training in can help you resolve all these problems and OneNote can do so much more as well! We can save you valuable time and improve your productivity and efficiency by using Microsoft OneNote as a productivity tool.

What is Microsoft OneNote
Microsoft OneNote is an electronic Note-taking system. It has been around for many years actually, but has really come into its own in recent years for a number of reasons:
Increasingly mobile workforce
Shift from Desktops to Laptops
The drive to go paperless
Microsoft Office 365 Software roll outs
Additionally, many organisations are now using Microsoft Surface Pro's or Windows Hybrid Tablets rather than Ipads in order to take advantage of some really cool productivity features available within Microsoft Office 365.
OneNote is part of the usual Microsoft Office Suite, though many people don't even realise they have it installed. The easiest way to describe OneNote is to compare it to a Paper Notebook with coloured sections or Dividers as in the graphic below.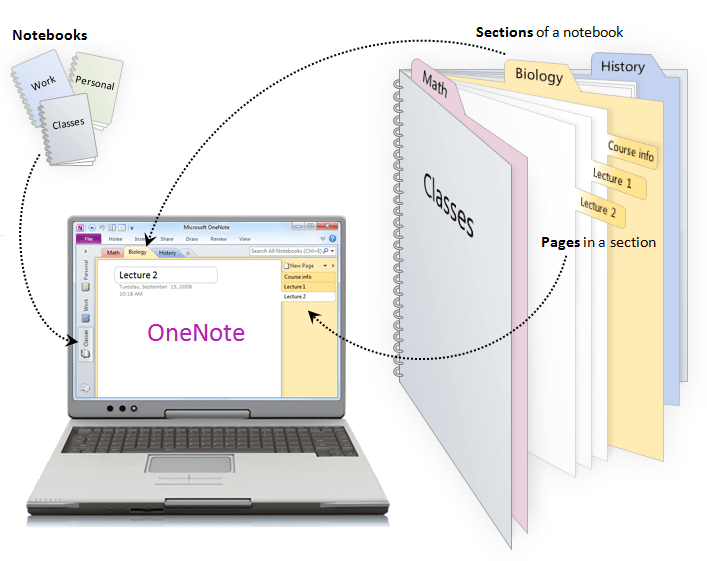 Also, Microsoft OneNote can be synced across all your devices. You can download the App for Android, IOS and naturally Windows devices too. This means you always have your notes with you wherever you go.
Microsoft OneNote Training outline
Principles of Note-taking
Understanding the basic structure of OneNote
The different OneNote programs/Apps
Avoiding the common set up traps
Creating and managing Notebooks (including sharing)
Creating and managing your Sections
Organising your Pages
Using Pages
Exploring the Insert Menu
Using OneNote with Microsoft Outlook
The Do's and Don'ts of taking Electronic Notes
Outlook Integration
One of the great features of using Microsoft OneNote is the way the program links or integrates so beautifully with Microsoft Outlook. There are so many fabulous time saving integration features and tools you can use. For example, by linking OneNote to Outlook, you can email pages from Outlook to OneNote or vice versa….. and there are many other OneNote productivity features besides.
We run our Microsoft OneNote Training for in-house for organisations in Melbourne, Albury Wodonga or anywhere in Australia and New Zealand for that matter. Boost your productivity and save yourself and your team valuable time by setting up and using this powerful productivity tool properly. Contact us now to discuss our OneNote productivity program in more detail.
Client Feedback
Hi Geoff, I'm loving OneNote and the Microsoft OneNote training really, really helped. I had used it a bit prior but totally incorrectly! I just had a load of sections. Now I have 3 Notebooks – internal project, external and admin. Within those are the project sections with each new meeting or event, a new page. It's colour coded and totally set-up right.  Thanks for the training – One Note is amazing.  Nicola – Local Government – August 2018
Call 02 6056 8887 or email Geoff Prior –  gprior@lingfordconsulting.com.au